Users
Attorneys who own small to large firms
Objective
Attorney Tools needs a responsive website that users can access from any device and that would give details about their product offering.
Goals
1. Create information architecture
2. Establish brand colors, fonts, etc. 
3. Design new marketing website, landing pages, and emails
4. Develop website
Background
Attorney Tools is a start up company that was created as a one stop shop for attorneys. Attorney Tools creates tools (SAAS products) for attorneys that streamline and make their processes more efficient. I like to compare it to tools like Microsoft Office or the Adobe Creative Suite, just geared towards attorneys.
Process
I start any new project like this by doing research into the space. I looked at different companies out there that have a similar product offering. During this research, I found their competitor's websites very outdated, hard to use, and hard to find information. 
Attorney Tools wanted their website to have a modern, simple feel. I had initial video calls with the client to discuss their needs and then I also sent over a questionnaire to gain more insights. 
From the research and analysis, I created the architecture for the website and worked on the brand look and feel. When I'm doing anything related to branding I like to create moodboards to help capture the overall feeling of the brand. For Attorney Tools, I went with bold colors, clean & simple lines, and straight fonts. I wanted it to feel bold, strong, but approachable. 
After getting approval for the direction of the branding, I moved into creating initial wireframes for the website. Unfortunately, because this is a new company, I didn't have access to users like I would normally like to have, but I know that I can always go back and rework anything in the future.  
Gather insights, requirements, and information from client.
From here, I'm taking that research and creating the architecture for the site, sketching out ideas, and collaborating with the team.
Create a moodboard for the brand direction
. At the same time, I also worked on wireframes for the website. Wireframes help client and I to capture the overall layout, content placement, and components of the new site. It removes anything like text, imagery, or colors that might distract from the overall experience.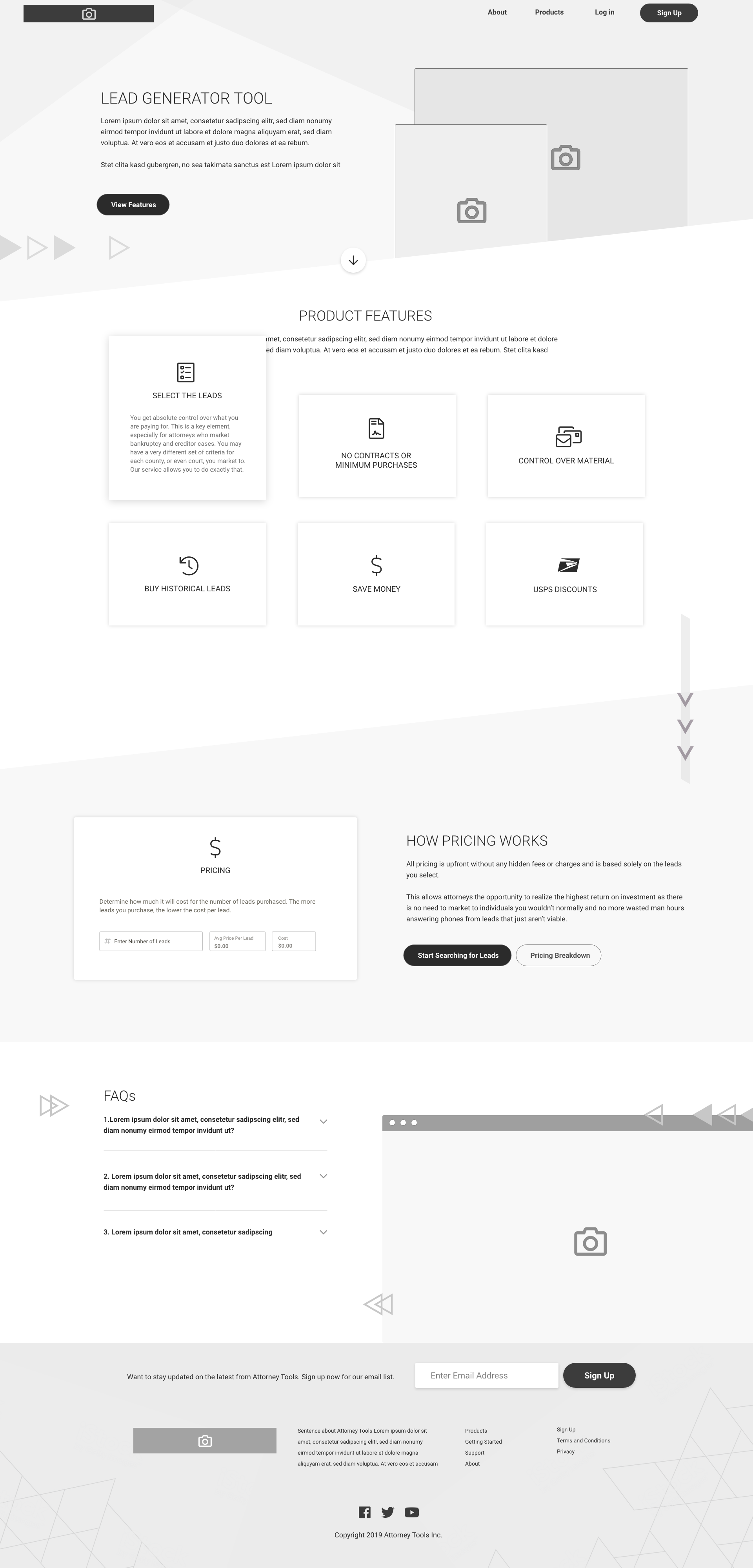 Present wireframes and make changes as necessary.
 From there I moved into creating high-fidelity mock ups for the marketing website. I used the moodboard and standards I created to influence the overall look and feel. I also collaborated with the developer, who assisted me in building out the marketing website. 
In addition to the marketing website, Attorney Tools also needed landing pages to promote their product offering. I've included working links to the prototypes
Outcome
The website so far has been well received. It's still in the early phases and hasn't received conversions yet because they are still working on their product offering. Once they have more products to promote they plan to market more aggressively. I'm really excited to start tracking the users that come to the site and using that data to influence the future design changes. Stay tuned!